31/03/2023
Why do online supermarkets choose DODO for their delivery?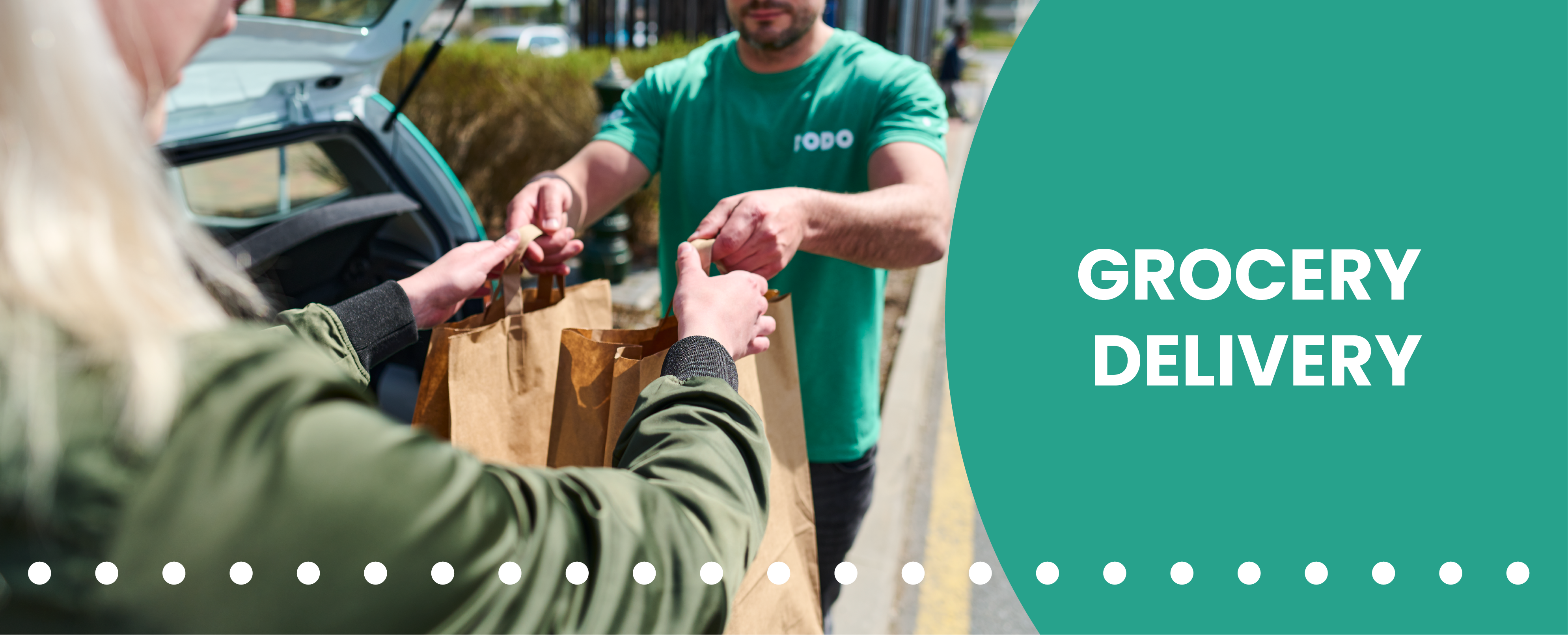 DODO is currently one of the largest food delivery companies in Europe. Over several years, we have managed to improve our technology and processes so much that even the most well-known online retailers in this segment trust us. How do we ensure 100% quality delivery of fresh and frozen food?
The popularity of online supermarkets is growing worldwide. According to a study by the research company Statista, online supermarket purchases (Grocery Delivery) account for 75% of total online food orders (Online Food Delivery) in 2022. The data shows that the revenue of the Online Supermarkets segment will grow by 18.9 % between 2022 and 2024, and the ratio of Grocery Delivery to total Online Food Delivery will further increase. The trend is developing fastest in the UK, France, or the Netherlands. The Czech Republic is more conservative in this respect, but even here the convenience of online grocery shopping is growing in popularity and has become a standard part of our lives.
Quality, speed, sustainability
Every client demands the best for their customers. In particular, speed and accuracy of delivery within a maximum two-hour time slot is important, as an announced delivery between 8am and 6pm would mean an unpleasant house arrest for the customer. The availability of cars and couriers to cope with expected peaks, and ideally the ability to react quickly to cover an unexpected peak, is also essential for a smooth delivery. The ideal solution is flexible and innovative urban logistics that can adapt to the situation at any time and anticipate all the hurdles and complications that can arise in last-mile delivery.
The behavior of the courier is essential – they greet, introduce themselves, mention the client's brand and proactively offer to take the order to the apartment.
For many clients and end-customers, the issue of ecology is important, which is why they choose our transport for environmental reasons. Sustainability of urban logistics is a major issue for DODO and one of the main goals we strive to achieve.
DODO as a logistics partner for (not only) food chains
At DODO, we are able to ensure maximum quality delivery of goods across several segments. We can handle the express delivery of ready meals, same-day delivery of medicines or cut flowers, and within the grocery segment we take care of the import of orders from online supermarkets in the best quality. And to ensure that we can maintain 100% freshness and other important qualities of food, we use special equipment and maintain higher standards than are required of us.
Safety and cleanliness of equipment is essential
Although we carry primarily packaged food, we adhere to the highest food standards that would be sufficient even for the unpackaged. First and foremost, we ensure the safety of our thermoboxes by checking the manufacturer's certificates to ensure they are suitable for food contact (e.g., no toxic adhesives).
To ensure 100% quality of transported groceries, we comply with higher hygiene standards than those required by law.
And because cleanliness is absolutely essential, we also take care of our equipment regularly. At least once every 14 days we thoroughly wash all our thermoboxes and once a month we also clean them with ozone, which kills all bacteria and viruses and also deals with odors. The effectiveness of our measures is regularly verified by swabbing the thermoboxes and subsequent laboratory analyses.
The same cleaning process (including ozone) is applied to the cargo area of our vehicles. We also take care of our vehicles externally to best represent us and our clients' brands.
We maintain the temperature chain
For some clients (e.g., Tesco) we are fully responsible for temperature chain compliance. In practice, this means that we need to be able to maintain different temperatures of goods even within the same thermobox or refrigerated compartment.

For example, we keep fresh minced meat and fish within a temperature range of 0 to 4 °C, while dairy products have an upper limit of 8 °C. For frozen food, the temperature chain is maintained with dry ice. To ensure that all food is at the right temperature, we adjust the number and positioning of the cooling elements depending on the outside temperature to maintain a stable ideal temperature in each part of the thermobox.
Thoroughly trained couriers
A significant part of the customer's impression of the delivery is influenced by the courier's behavior, which is why we make sure they are trained – both for the job itself and for safety. And because every client has slightly different requirements, we always tailor the training to suit. Compliance with global standards is ensured, among other things, by our Courier Code of Conduct.
The Courier Code of Conduct contains the rules of conduct that are applied to all DODO couriers.
Each DODO courier must carry a valid food handler's license and a reflective vest to move around the vehicle when loading. They always come to work looking presentable and in clean clothes to represent the client's brand well. They never smoke in the car. They are polite and professional on the road and when delivering orders and are always helpful and friendly to customers.
Of course, we verify compliance with the key principles, and not just through customer reviews. We organize random checks to verify and possibly improve the safety of our couriers on the job, and through our technological platform GAIA (a software ecosystem developed by us) we also monitor the driving style of our couriers – they are penalized for frequent hard braking, for example.
GAIA is our own data-driven logistics platform which makes us so efficient in urban logistics. It handles route planning, shift and courier organization and many other necessary activities.
Enthusiastic customers and satisfied clients
Delivery is the last stage of the shopping process, which significantly influences the customer's final impression. Timely delivery of goods, 100% quality of individual products and friendly, pleasant courier behavior naturally increases the customer's tendency to buy from the e-shop again.

DODO prides itself on its position as a quality and reliable logistics partner and constantly strives to bring a positive shopping experience to the customers of all its clients. And because we succeed, more and more online supermarkets entrust their deliveries to us. We currently deliver for e-shops such as Tesco, Košík.cz, Spar, Penny Market and Billa.
Looking for the ideal last mile logistics solution? Don't hesitate to contact us!